Peter's Summer
Note to reader: I kept this page up while I was over in France as a way of keeping in touch with friends and family, and then I've barely touched it since then (which was basically the plan). If you find broken links/inaccurate info/whatever, please let me know.

For a variety of reasons I decided to take one of Tech's wonderful study abroad opportunities during the summer of 2000; I wanted to do something different, but I also wanted to take a few classes. Georgia Tech Lorraine was the program that I chose, and I had a wonderful time. I've written down some reflections about my experience.

The summer program was composed of about 63 students spread over majors such as electrical engineering, mechanical engineering, industrial engineering, management, and international affairs.

This page is not really organized in any specific manner. I tried to write a semi-decent trip log for each mini-trip I went on, and occasionally I documented happenings at GTL, but for the most part the focus is on stuff I did away from the actual Georgia Tech Lorraine campus. This might be misleading if you're a prosective GTL student trying to figure out what life was like on campus -- for that you'd have to read my reflections on the trip.
Trip log (or some approximation thereof)
a few pictures before leaving
I'm taking some classes
24/05/2000 page 2 some random pictures
29/05/2000 - covers trip to Chamonix
30/05/2000 - some random photos
01/06/2000 - beginning of trip to Aachen
01/06/2000 page 2 - just a few extra shots
I was a little sick and had 3 tests this week, so there was a little lag. Things should be up to date now. The tests (at least the 2/3 I've seen so far) went well.
06/06/2000 - trip to Aachen to see Alex
12/06/2000 - trip to Normandy
CORA - the store of all stores
My foray into panoramic photography. Fairly cool; I'm planning on doing some better shots (with exposure-lock on and a more stable platform). This one was just an afterthought while I was in Caen, but perhaps I'll get some other good ones.
This weekend we ended up going to Brugge, Belgium for Friday and Saturday and Amsterdam on Sunday. The page is here.
This weekend we went down to Füssen and München.
I went to visit Megan in Frankfurt and Wiesbaden and generally had a nice time. The date on the camera must have been wrong; those pictures weren't really taken during the school week. ;)
GTL was nice enough to help us throw a 4th of July celebration-type thing instead of the regular dinner.
Charlie and I went to Chamonix again to do some serious hiking.
From the bureau of totally random statistics:
I've taken 1128 pictures so far that I've bothered to save, in 58 days (or so) that I've been in Europe. That's about 19.45 pictures per day.
I went to Dijon to see Morgan and had lots of fun. We saw the Bastille day fireworks there, which were quite impressive.
GTL had a group picture time.
I went for a bike ride along the Moselle. It wasn't cool to lose my wallet (due to my overpacking a bag to the point where a zipper pulled apart), but otherwise was very fun.
Sometimes studying gets the best of you and you just have to explore.
This weekend I went to Paris with Chris W., Charlie, Michelle, Elissa, and Jeremy to see Lance Armstrong win the final leg of the Tour de France and to ride in the arrival ride. We had an awesome time. Pictures are here and here. The annotations leave something to be desired because they were added three months afterwards.
Saturday: Went downtown with Brian, James, and Saneesh and had dinner and a few beers at O'Carolyn's. (It was amusing because the bar was basically 30% GTL students).
Sunday: Went to the Walibi Schtroumpf amusement park with a large group of GTL students. After spending about 2pm->7pm at the park, we came back to Metz and caught Mission Impossible: 2 in the theatre, and then watched the water/music show by the river.
Monday: Packed, packed, cleaned, packed, threw away, and went downtown to get tickets for Tuesday's trip. I have some random pictures of Metz and the trip home here.
Tuesday: Christine and I went to Epernay, a champagne town, for a day trip.
This is the Metz folks putting the flowers in at the main train station. Apparently they truck in a lot of dirt and plant the flowers every summer. I have more pictures of this.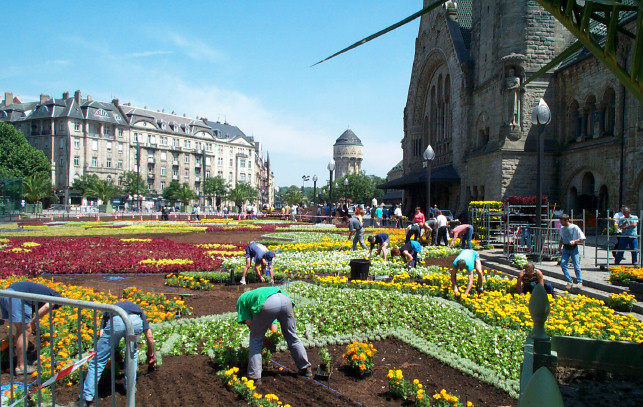 Drop me an email at peter@diff.net if you have any questions or comments. This page gets updated when I have the time and content to put up. Postcards are also welcome ;)

Peter Jensen
Georgia Tech Lorraine
57070 Metz
FRANCE


Pictures are taken with my kodak dc280 digital camera. All pictues and text are copyright © 2000 Peter Jensen unless stated otherwise. All rights are reserved; permission for reuse will be granted in almost all cases, but it is not given implicitly. All requests for removal of pictures will be honored, provided that they originate from one of the people pictured. Corrections of or expansions on my recollections are also welcome.

Au revoir!