home
my Avenger 2 DLG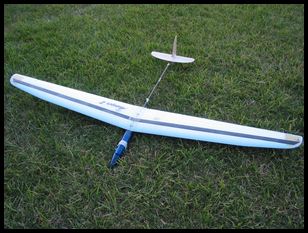 Stats:
Janco Models Avenger 2 DLG (built around 5/27/2002), aileron version
Hitec HS50 aileron servos in the wings
Hitec HS55 servos for R/E (well, HS55 on elevator, CS20 on rudder)
Hitec Superslim receiver with case removed
stock kevlar thread pull/pull linkages for R/E
lithium 6v 2x CR123A battery pack
radio is a Hitec Eclipse 7
This glider rocks. I have very little to compare it to, but I love the way it flies. Assembly was straightforward but long for a first-timer, although I think I could build another one in well less than half of the time (and do a better job). I really want to build something like it with poly for a keep-in-the-car glider to fly at lunch (and I've found that in the Red Herring-style models, which are extremely portable and launch/thermal great).

The Avenger 2 is a wonderful value for the money.
---